Expanding California's Behavioral Health Workforce
Featured Resource: 2021 Behavioral Health Workforce Assessment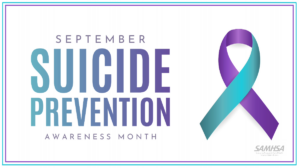 Every year SAMHSA dedicates this month to remembering the lives lost to suicide and the millions of people who have struggled with suicidal ideation, and acknowledge the individuals, families, and communities that have been impacted. The Suicide Prevention Resource Center has a variety of resources for communities, families, and providers to help prevent suicide. Learn more at https://sprc.org and https://www.samhsa.gov/newsroom/suicide-prevention-month
The California Department of Health Care Services (DHCS) is expanding California's behavioral health workforce to improve consumer access to, and productive participation in, behavioral health services throughout the state. As part of this commitment, DHCS contracted with Advocates for Human Potential, Inc. (AHP), to implement the Behavioral Health Workforce Development (BHWD) initiative.
As of July 2023, 286 grantees have been awarded funds that support the expansion of their
behavioral health operations. Grantees are also supported in other ways including this customized
platform providing learning and development resources.
CONTACT US: If you have any questions, please contact us by email at: